Gypsum and Cementitious Flooring Treatments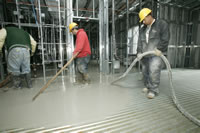 Flatline Floors™ , a division of Morrison Construction Company, Inc., is USG's authorized flooring applicator for Northern California. Our company prides itself on providing the finest quality gypsum and cementitous floors. Our superior quality and service has earned us the USG Five-Star Applicator™ status, which allows us to extend a five year warranty to you.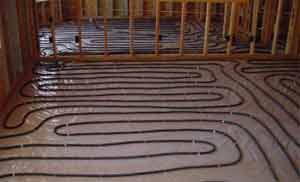 We specialize in radiant heat applications for custom homes and commercial floor refinishing. If you need an underlayment Flatline Floors™ has a product to fit your needs. We have top quality equipment, professional crews and offer the highest compressive strengths with the flattest floors in the industry.
As USG's authorized flooring applicator in Northern California, we can provide a quality system that will meet your needs and your budget. By using the premium poured gypsum flooring product, LEVELROCK™ underlayment, a high-strength gypsum cement-based product, or LEVELROCK™ SLC, a Portland cement-based product, we are able to address all floor underlayment and finish floor needs. There are many benefits to using LEVELROCK™ products, including:

LEVELROCK™ gypsum flooring product produces a durable, lightweight, flat and crack-resistant slurry that is thinner and weighs less than cellular concrete floor systems without negatively impacting critical performance criteria.
LEVELROCK™ gypsum flooring does not "dust up", deteriorate when wet, or show pathways even after months of foot traffic.
LEVELROCK™ gypsum flooring systems qualify for both one and two-hour fire resistance ratings from Underwriters Laboratories (depending on thickness).
LEVELROCK™ PROFLOW is the only gypsum flooring product in the industry that can be ACID STAINED and sealed for a finished (tile, carpet, wood) floor.
LEVELROCK™ SLC (self-leveling cement), a Portland cement-based product provides us with the ability to compete with non-gypsum based cements, for high traffic areas such as warehouses and manufacturing facilities.
Flatline Floors™ is not just another gypsum flooring applicator. We go out of our way to ensure the finest quality job and complete customer satisfaction. Use Flatline Floors™ one time, and you will use Flatline Floors™ every time. For project planning and design solutions, estimating and scheduling, contact Jeff Morrison at (209)533-1242 Office/(209)768-5050 cell, or email me at jeff@flatlinefloors.com.